Warning: To ensure your account is properly set up, 
please do not press back, reload or close this page
5x Your Passive Profits Overnight, Unlock
In Less Time & Steal The Exact Methods
What Do These Sites Do Differently, Or Better, Than Those Earning MUCH Less?
Hello News is like having your own full-time team of writers creating new content for your sites. Now you can add fresh new content from a total of 438 unique sources...
More updates from more unique sources = more traffic and higher profits.
Authority Sites That Maximize 
Traffic & Passive Profits
The advanced theme inside HelloNews Pro lets you create multi-category, authority sites that drive FLOODS of traffic. You'll get more visits, provide an improved experience for users… and make MORE passive income.
LOVE Unlimited Or Your Money Back
100% Money Back Guarantee
30 Days Money Back Guarantee
Your low one-time investment in PRO is covered by the same rock solid guarantee we offered with HelloNews PRO
In the highly unlikely event you're not thrilled, your money back. All we ask is that you take action … 
Because due to the significant costs of providing ongoing free hosting for unlimited users, we have to limit the number of licenses available. 
So if you're not 100% serious about actually using this powerful upgrade … 
Please DON'T take us up on this invitation and leave the spot for someone that really needs it.
Let's Be 100% Transparent
You don't need the Pro upgrade to make HelloNews work.
If you're satisfied with possibly 3 figures per day and running regular traffic campaigns to make it happen … you've got all you need.
BUT - The upside income potential of this software is truly unlimited. You've seen for yourself how much certain websites are making in automated, recurring daily income.
Hello News Pro Puts That Profit Potential In YOUR Hands
With the EXACT same methods these sites are using to drive in 4+ figure DAILY profits.
As a new customer, we're excited to invite you to Hello News Pro and the UNLIMITED profit potential inside for a steep discount.
However, this exclusive offer lasts only as long as this page is open. You won't hear about it ever again. Not in an email, not inside your member's area … It's a one-shot deal.
Of course, your low one-time investment is completely covered by the same rock solid money back guarantee we offered with HelloNews. If for some CRAZY reason you're not thrilled, your money back.
All we ask is that you only take action if you're SERIOUS about making life-changing passive income.
HelloNews Pro access is limited to a set number of users … so if you're just window-shopping & plan on refunding … please move along and leave the spot open for someone that really needs it.
But if you're truly ready for game-changing passive income …
And want to see it happen in the least amount of time possible … HelloNews Pro is here for you.
Of Top-Earning News Sites Making 4+ Figures PER DAY
Your access to HelloNews is a fantastic start to making passive income.
Proven to work by dozens of marketers from different backgrounds …
Using the same fundamentals top news sites use to make their money.
How The World's Most Profitable News Sites
EASILY Make 4+ Figures Every Day
source: onlineincometeacher.com/money/top-earning-blogs
They have authority sites attracting a huge RANGE of visitors … that are extremely user-friendly with topics broken down into categories
Look At The MENUS On These Sites:
They Have Boatloads Of Content … many employing huge teams of writers & freelancers so they can update multiple topics per day.
More Content From More sources = MORE passive income.
Effortlessly MULTIPLYyour profits …
Make more, make it faster …
Simpler than ever before possible.
Get 300 EXTRA News Sources for more traffic & unique content
Upgraded Hello News Theme lets you create multi-category AUTHORITY sites
Maximize Clicks & Passive Income with built-in widgets that optimize your ads & offers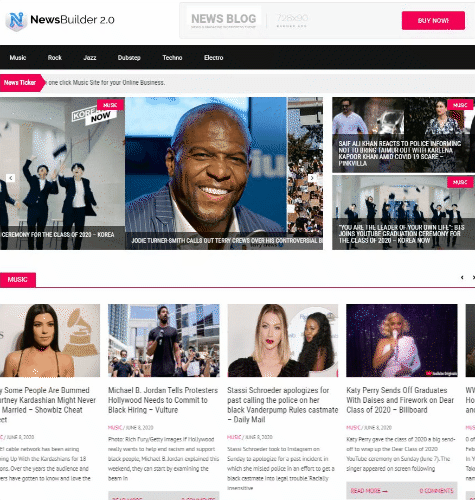 Get MORE Clicks To Monetized Offers 
The HelloNews PRO theme includes widgets that AUTOMATICALLY increase clicks - and income - on your ads & offers. No guessing - each widget positions your monetized offers in EXACTLY the right place to maximize clicks & profits.
Multi-category, authority websites attract a wider range of visitors AND increase time on site. 
And because your HelloNews Pro sites are passively monetized … more traffic & longer site visits translate DIRECTLY into higher income.
It's one thing to create a site about, say, nutrition tips for men over 40. 
It's another thing entirely to become the GO-TO-SITE for fitness & nutrition for women & men of ANY age. 
Suddenly you're pulling in an audience 4-5X larger than the typical niche site … and all that free traffic turns into MORE passive income from your monetized sites.
The TrafficBuilder software included with HelloNews is incredibly powerful … 
But if you stick with limited niche sites, you'll have to run multiple traffic campaigns to get the best results. 
With your authority HelloNews Pro sites, traffic gets much easier & faster. Now you can set up simple set & forget campaigns driving targeted users to multi-purpose sites … making you MORE passive income … with FAR less effort!
Ever go to a chain restaurant and wonder why your eye is drawn to certain menu items? They're put there for a reason - they're the money-makers and the restaurant wants them to stand out.
The exact same science applies to websites. Ads & offers make you the MOST money when strategically positioned on your website. 
It's not guesswork - it's 100% science - and HelloNews Pro EXPLOITS this science to maximize passive income from every site visitor. Instead of struggling to figure it out for yourself, the widgets included inside HelloNews Pro automatically post your ads & offers to OPTIMIZE your profits.
This SINGLE feature is the difference between struggling and making 3-4 figures - even more - per day - INCLUDED with HelloNewsPro!
To lock in your access - and we'll look forward to personally connecting inside.
To lock in your access - and we'll look forward to personally connecting inside.
Perfect ad placement for the highest possible profits - build right into HelloNews Pro.
They've got PERFECT ad placement, strategically positioning ads & offers to maximize clicks & income.
Now You Can SKYROCKET Your Passive 
Profits By Copying EXACTLY What These Top-Earning Sites Do!
This website in no way is affiliated with facebook or any facebook entities. Once you leave facebook the responsibility no longer is on their site. We make every attempt to clearly state and show all proof. We do not sell your email or any information. CAN-SPAM compliant. If you have any questions please feel free to contact us here. All trademarks and logos are the property of their respective owners. This site and the products and services offered on this site are not associated, affiliated, endorsed, or sponsored by any business listed on this page nor have they been reviewed tested or certified by any other company listed on this page. The results shown are not typical and results will vary based on your market, your efforts, competition and many other factors outside of our control.
Privacy Policy  |  Terms Of Service  |  Disclaimer
© 2022 Hello News | All Rights Reserved